Barcelona

Contemporary Barcelona
A modernist route through the centre of Barcelona
A walk on foot through the most famous buildings of the city
This Modernist Route through the centre of Barcelona covers approximately five kilometres. It is usually undertaken on foot and it can last from two hours to a whole day, depending on the stops and on the building interiors one wishes to visit.
A costless route, it provides a unique opportunity to get to know, through their facades, more than twenty buildings that constitute the most emblematic masterpieces of modernist architecture.
We begin the route from the most central part of the city. Our first stop takes place before the singular Palau de la música (c/ Palau de la Música 4-6). A few metres close by, we find two of the first modernist houses: Casa Cabot (c/ Roger de Llúria 8-14) and Casa Calvet. 300 metres ahead we arrive at Casa Pia Batllo (Rambla Catalunya 17), the most representative work of Josep Vilaseca, where we recommend you pay attention to every single detail of its facade.
If you wish to acquire a deeper knowledge of Modernism, we strongly recommend you pay a visit to the Catalan Modernist Museum (c/ Balmes 48) wherein more than 350 works of the most distinguished artists of the movement in all its variants and genres.
Our route follows through Passeig de Gràcia where four of the major architectonic masterpieces of the city are to be found. Casa Amatller, an old chocolate factory, was constructed in 1898 by Josep Puig i Cadalfach. Just next to it, impossible to miss, lies la Casa Batlló (Passeig de Gràcia 43) by consecrated Antoni Gaudí. Going up through Passeig de Gràcia, the most famous facade of Barcelona will captivate you: La Pedrera (c/ Provença 261) was commissioned in 1905 for the Milà family (this is where its original name Casa Milà" originates from).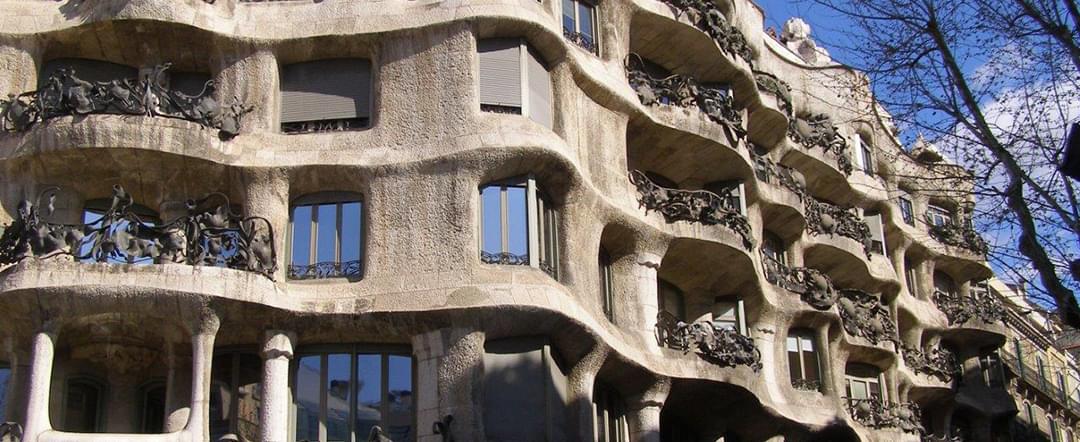 Just in front of it, on the other side of Passeig de Gràcia, towards Rambla Catalunya, you can observe la Casa Serra with its facade sculpted by stone a work by Josep Puig i Cadalfach, in 1905, the same year as La Pedrera.
Reaching the middle of our route, on the height of the Diagonal avenue, we recommend you pay a visit to Casa Sayrach (Av. Diagonal 423-425) by Manuel Sayrach, one of the last modernist buildings of Barcelona. On your way back to Passeig de Gràcia you will encounter one of the most luxurious hotels of Barcelona in the interior of la Casa Fuster, which was constructed in 1908 by Lluís Domènech i Montaner.
It is at this spot where the Modernist Route enters the uptown area. During our walk through the Diagonal Avenue, we stop in front of Casa Comalat (Av. Diagonal 442) de 1911. In the same avenue, one of the most significant of the city, Palau del Baró de Quadras is located, constructed by Josep Puig i Cadalfach around 1902. Still in Diagonal, we arrive to Casa de les Punxes (Av. Diagonal, 420), whose interior is now open to the public. A masterpiece of the same architect, the building conserves its medieval appearance and a certain gothic inspiration.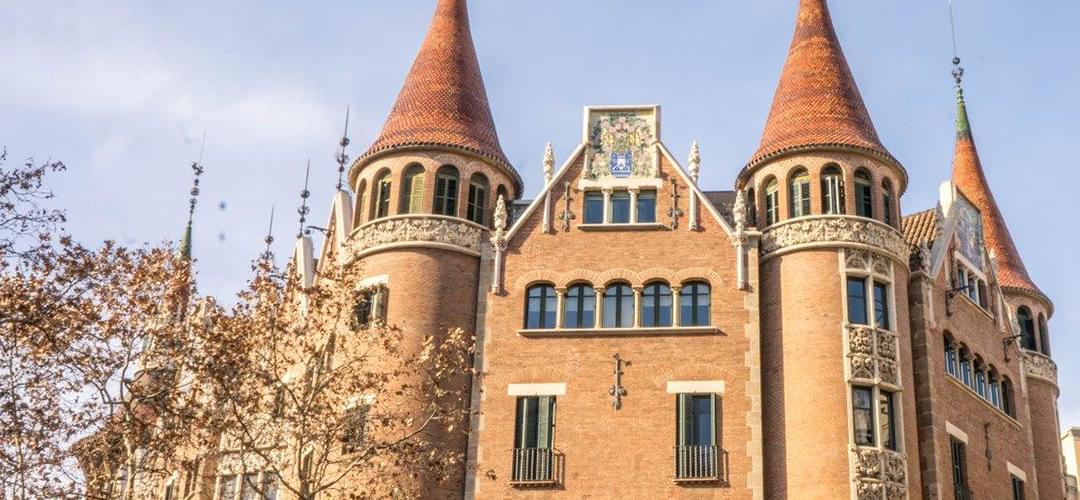 Walking now on Girona Str. we find la Casa Lamadrid (c/ Girona 113), a work by Lluís Domènech i Montaner, concluded in 1902. Three rows of balconies embellish its beautiful green-toned facade. The first-floor ones are made out of stone. On our way to Passeig Sant Joan, we stop in front of Casa Macaya (Passeig de Sant Joan 108), another work by Josep Puig i Cadalfach.
Our route is reaching its end while we pass in front of the highlight of the city: Sagrada Familia. In perpetual construction, this church is one of the most characteristic monuments of Barcelona. It occupies a whole Eixample block with a series of fascinating details.
Finally, our modernist route ends at la Avenida Gaudí up to the Cartagena Str., where we encounter the Hospital de la Santa Creu i de Sant Pau (c/ Sant Quintí 89), built in 1902 by Lluís Domènech i Montaner. This hospital, still in use, occupies nine corners and it is a masterpiece of Catalan modernism. Part of it is now accessible to the public.